Купить виниловые пластинки в Екатеринбурге
Gorillaz - Gorillaz
Label: Parlophone - 7243 531138 1 0
Format: 2 × Vinyl, LP, Album, Gatefold - Label Mispress
Country: Europe
Released: 24 Mar 2001
Genre: Electronic, Hip Hop, Rock
Style: Leftfield, Latin, Trip Hop, Lo-Fi, Pop Rap, Experimental
Остаток: Под заказ
4 500 руб.
Tracklist
A1 Re-Hash
Vocals – Miho Hatori
3:40
A2 5/4 2:42
A3 Tomorrow Comes Today 3:14
A4 New Genious (Brother) 3:59
B5 Clint Eastwood
Rap – Del Tha Funkee Homosapien
5:43
B6 Man Research (Clapper) 4:32
B7 Punk 1:38
B8 Sound Check (Gravity) 4:42
C9 Double Bass 4:46
C10 Rock The House
Written-By [Co-written by] – Dan The Automator, Del Tha Funky Homosapien*
4:11
C11 19-2000
Vocals – Miho Hatori, Tina Weymouth
3:29
C12 Latin Simone (Que Pasa Contigo)
Vocals – Ibrahim Ferrer
3:38
D13 Starshine
Producer – Jason Cox, Tom Girling
3:33
D14 Slow Country 3:37
D15 M1 A1 3:57
D16 Clint Eastwood (Ed Case/Sweetie Irie Refix)
Remix [Uncredited] – Ed Case
4:28

Manufactured By – EMI UK
Phonographic Copyright (p) – EMI Records Ltd.
Copyright (c) – EMI Records Ltd.
Copyright (c) – Gorillaz Partnership
Recorded At – Geejam Studios
Mastered At – The Town House
Marketed By – EMI
Distributed By – EMI
Pressed By – Record Industry

Artwork – J.C. Hewlett*, Zombie*
Engineer [assistant] – Toby Whelan
Engineer, Co-producer – Jason Cox
Engineer, Other [Pro-tools], Co-producer – Tom Girling
Photography By – Ed Reeve, Jow@spiritproductions*
Producer – Dan The Automator (tracks: 1 to 13, 14, 15a)
Written-By, Performer – 2D (3), Gorillaz, Murdoc*, Noodle (2), Russel*

Released in gatefold sleeve, including two printed inner sleeves.
This Version has a Label Mispress
Disc 1 has the B Side Label on both the A Side and B Side
Cat# on spine, inner sleeve and vinyl labels: 7243 531138 1 0
Cat# back cover: 7243 5 31138 1 0
Tracks listed sequentially on the release, from 1 to 16, but with track 7 ("Punk") written out as "Seven".
There is a silent locked groove after track D15.
[Back cover]
© TM GORILLAZ Partnership 2000
(P) 2001 Except tracks 3 & 10 (P) 2000 the copyright in this sound recording is owned by EMI Records Ltd.
(C) 2001 EMI Records Ltd.
Printed in EU.
Made in the EU.
Marketed and Distributed by EMI
[Inside of the gatefold cover]
Recorded at Gee Jam Studios, Jamaica.
"New Genious (Brother)" contains portions of "Hit or Miss" by Odetta Gordon.
"M1 A1" contains portions of the film "Day of the Dead" music written by John Harrison.
"Rock the House" contains portions from "Modesty Blaise" written by J. Dankworth.
Photography credit is printed as "Jow@spiritproductions" on the release.

Barcode: 724353113810
Matrix / Runout (Side A): 5311381 1A1 T.B. @ Townhouse
Matrix / Runout (Side B): 5311381 1B1
Matrix / Runout (Side C): 5311381 1C1
Matrix / Runout (Side D): 5311381 1D1
Label Code: LC0299
Rights Society: bel BIEM
Other (Distribution Code (F)): F: PM 520
Похожие товары
Вы уже посмотрели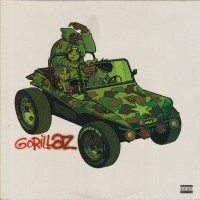 4 500 руб.
Предзаказ
Заказать бесплатную консультацию